Is Dubai the new crime center?
Bratislava, Dubai, Washington, D.C. (13/5, 40) Did a murder, organized crime, corruption and a QR code scam threatened the integrity of the Slovak financial, tax, banking sector and what are the lessons for the Balkan and the UAE?
In 2018 a murder of a young Slovak investigative journalist Ján Kuciak and his fiancée Martina Kušnírová shocked Slovakia and revibrated through Europe and around the globe. Public anger and protests followed and the far-left political party SMER and its cronies were forced to resign. The former prime minister only recently was charged by the police with corruption. Once the court accepts the charges by the police the court proceeding commence.
Political observers called this the second revolution for the small European Union member nestled strategically bordering Ukraine. The investigation that followed the cold-blooded murder uncovered a vast spider network of corruption, organized crime, and fraud of EU resources reaching into all levels of society. A new trial of prime suspect Marian Kocner is underway.
Thanks to the cooperation between INTERPOL, the Slovak national police, National Criminal Agency of Presidium of Police Force (NAKA) and the Dubai police one offender was apprehended in Dubai.
Michael Suchoba, age 49, was initially detained in UAE turning witness for the state, collaborating with authorities. In March 2021 he confessed to the charges of bribery.
The killing of Jan Kuciak, the young journalist triggered a global collaboration between law enforcement agencies and electronic discovery identified Michael Suchoba was named by now convicted Marian Kocner who is charged with the hit on the journalist but also attempted to bomb the special prosecutors in an Italian style mob hit. The case is currently on trial. Suchoba surfaced in exchanges between two oligarchs.
The companies owed by Michael Suchoba such as Allexis s.r.o., Allexis Assets in Malta, and Miller investments are linked to other individuals engaged in corrupt practices defrauding the Slovak citizens. Other companies associated with the Slovak entrepreneur who played guilty on corruption charges bribing Financial Administration officials among them František Imrecze. Suchoba collaborated with Jozef Brhel, a powerful oligarch who controlled the energy sector in concert with Martin Bahleda, a lawyer representing Brhel. All three are currently charged by Slovak authorities for money laundering and bribes.
QR code scam, A Threat to Balkan fiscal integrity?
The fraud consists of bribing the former Financial Administrator of the Slovak Republic to adopt a point of sales system that enables the user to manipulate the QR code, prints false receipts and reports false reports to the tax offices. The QR code are produced by Suchoba owned or associated companies, such as QSBW, and certification organizations such as CHDU who are possible fronts of associates of the former head of the Financial Administration of Slovakia, František Imrecze.
Technical examination by ethical hackers were able to prove the end user, like the tax offices, or the public, will not be able to differentiate between a real sale or a fake sale. The system, locally called "eKasa" is sold, or operated, in the Serb republic and possible Hungary and Austria.
Who financially benefited from the fraud? Reports from the Slovak police (NAKA) suggests Suchoba defrauded Slovakia for about 48 million euros by overpricing off the shelves software he purchases and used. US authorities are investigating if Suchoba has violated U.S. laws such as Intellectual property and organized crime.
Another puzzle in the Suchoba drama is his role in funneling state money through QSBW, to settle some debt, reported of 5.5 million euros of his schoolfriend who owns the Medusa Group, a restaurant chain in Slovakia, and the Czech republic. The Austrian venture which went bankrupt received funds through QSBW which is managed by Martin Hrcko. We reached out for comment from QSBW but at the time of print no feedback was received.
Who the Medusa group owed 5.5 million euros is unclear at this juncture but public reporting shows that monies flown from the Slovak state to the restaurant business. Peter Štecko, a schoolfriend of Michael Suchoba received a cash injection different businesses of the Medusa Group including the Austrian Mistral GmbH.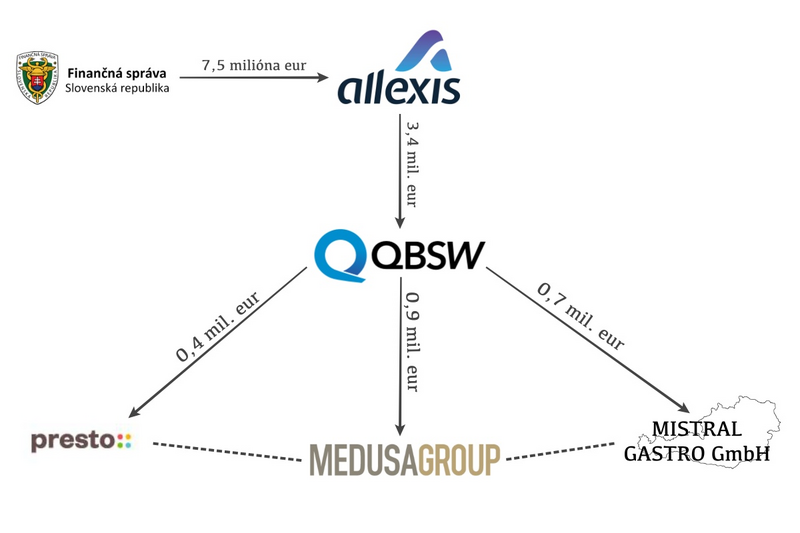 The scale of the QR code scam is difficult to fathom as it involves daily life. Groceries, hair saloon, insurance, health care, services, payments to governments or the local munipality and could reach into the billions. This makes Slovakia vulnerable, undermines its credibility as a financial center of trust. A new commodity, Information, can be accessed, sold and used for non-state and state actors and beside even if Michael Suchoba will serve prison for his crimes he will resurface as a rich ex-con since the Slovak authorities still using a flawed system.
According to Suchoba, in 2013 it was decided that the tax authorities had decided to include the Allexis S.R.O solution in their strategy to combat tax fraud. "At that time, Mr. Jozef Brhel Sr. called me on the tenth floor of the Hilton Hotel in Bratislava and told me that I would never deliver projects to the financial report. So I asked him why this should change after 20 years and he told me that the situation has changed because Minister Kasimir doesn't like me. " Suchoba testified.
"When I asked him how he got the information that I should deliver something to the financial report, he told me it was from Kažimír and he from Imrecze." Suchoba added in his resignation. The defendant also described how they started two more companies and transferred property rights to the ALLADIN CDK project.
Suchoba said in his depositions, "There was one more thing in 2015 or 2016 when Mr Brhel wanted me to bring him cash. I think it was around 2015 when we did the biggest turnaround on the financial report, so I gave him the sum of 700,000 Euros in several tranches, either on the 10th floor in Houston or then in a restaurant in Záhorská Bystice, I don't know his name, and in 2016 it was only on Trnavská in Hilton, his offices and he then went with me to the right and right where there was such a small closet. There were several bottles and boxes left and I put them on the shelf in that closet..."
Where is Michael Suchoba now?
Reports suggests Suchoba still enjoys the privileged life in Dubai and Slovakia. If he is in Dubai the question is to be raised, why is he not arrested and behind bars? And reports suggest the UAE is becoming the new Switzerland for organized crime. This includes other Slovak corrupt officials including a former chief of police, Russian organized criminals to funnel monies to the new places of wealth such as Bali, Indonesia, Singapore, or further afar to Taiwan and some extend Shanghai.